Complete resources for sheet metalworking
Skilled personnel combined with new technology provide a good platform for production of almost any sheet metalwork at the highest quality level. Today we are recognized as a leading player in sheet metal processing and can offer qualified engineering services within different types of processing. We have complete lines for cutting, punching, bending and forming of sheet metal. Our factory also contains resources for robot welding and painting as well as roll-formed profiling of different materials.
Quality is naturally a key guiding principle that runs through all of our operations. The same applies to our suppliers and partners.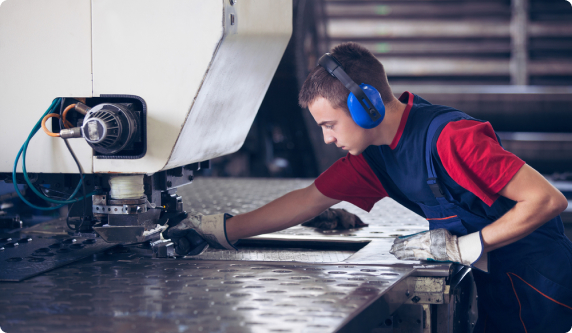 LAGER KOMPONENTER has at its disposal a highly efficient, flexible production line for laser cutting/punching with a capacity that can handle very complex processing. Our punch/laser cell LP6 from FinnPower with it's associated hi-rise storage facility carries out production efficiently with optimum use of material.
Max Size of Sheet:
3000×1500 mm
Material:
Stainless/carbon steel/aluminium
LAGER KOMPONENTER can offer you the capacity of three complete welding robots cells. By using two S4s' (one with roller conveyor) and one S3, we can guarantee efficient mass production of both long and short series of welded products.
Max length of goods:
3100 mm
Material:
Stainless/carbon steel
Our plant has resources for the advanced manufacture of roll-formed profiles of steel or other metals. A flexible roller system allows us to offer customized profiles with very low tool costs.
The profiles are further processed by punching, shearing and special packaging of various kinds. We also have our own design resources.
Material:
Cold rolled, galvanized, hot rolled, pre-painted, stainless, copper, brass, aluminium
LAGER KOMPONENTER can offer a complete line for powder coating parts of varying sizes. The line can handle both large and small series with high efficiency.
The line is very long and can handle products that are up to 8 meter long. Rapid colour changing provides cost-efficient painting.
Our pressing plant offers knowledge, experience and the right machinery for manufacturing pressed and punched sheet metal parts Our machinery includes several large eccentric presses, a perforation line, tumbling machines and cutting shears. We also have all the necessary equipment for making tools for our own production.
Pressing:
8 edge presses, 45-450 tons 8 eccentric presses, 40-100 tons
Perforation:
2 perforation lines, 100 tons
Bending:
Stainless/carbon steel/aluminium